Sacred Self, Sacred Community, Sacred Earth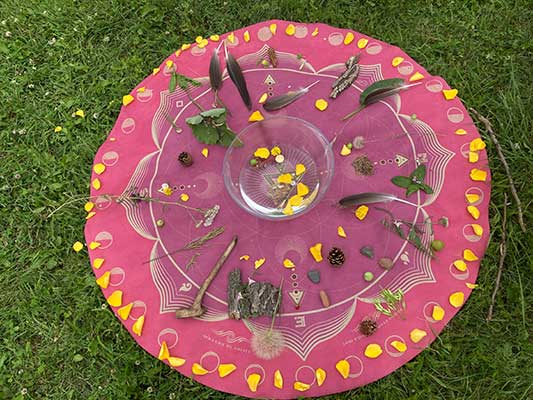 with Beth Remmes and Jamie Harvie
Join us on May 5th, 2022 at 6:00 PM MST for a special event. Psychedelic medicines are powerful teachers that facilitate a reawakening to the interconnectedness of all life. Many already experience this connection through the deep love and pain we feel for the world. This interactive virtual workshop builds on the work of Joanna Macy, "Active Hope: Moving Towards a New Future" and connects to our deep love and pain for the world. Based on over four decades of community work with thousands of people around the world, this practice is designed to help transform fear, grief and despair into inspiration, gratitude and hope. Together, we will address current ecological and cultural challenges and explore a deeper understanding of how we can realize a new way of being; a planet where all people flourish and thrive in right-relationship with the natural world. Facilitated by Jamie Harvie and Beth Remmes. This event will be approximately 2 hours long.
Beth Remmes is a Facilitator for The Work That Reconnects, leader of the Earth Care Team at Unity Atlanta, a member of the Unity Worldwide Ministry Earth Care Team, is on the Board of Directors for Georgia Interfaith Power and Light, and co-founder of The Four Directions Fund.
Beth has also participated in Pachamama Alliance's Awakening the Dreamer Facilitator Training Program and Game Changer Intensive, and the Sustainable World Coalition's Emergence to Action course, Environmental Working Group for Environmental Educators, and White Awake Study Group. Beth completed a year long international on-line Work That Reconnects Facilitator Development Program and earned a certificate in Ecopsychology from Pacifica Graduate Institute. She also completed a certificate in Beyond the Sustainable Development Goals (SDGs): Addressing Sustainability and Development from the University of Michigan, a certificate in Ecological Design from Gaia Education, and is part of the Climate Reality Leadership Corps. She is currently enrolled in the online Master of Science (MS) in Biomimicry program at Arizona State University.
Jamie Harvie serves as the PRATI Interim Executive Director and is an innovative systems thinker working at the leading edge of institutional and organizational change. Jamie is nationally recognized for his extensive experience at the nexus of health, community, environment and healthcare. In 2018 Jamie was selected as a BALLE Local Living Economy Fellow, visionaries and strategic connectors from across North America at the forefront of building healthy, equitable local economies, underpinned by the regenerative capacity of the natural world around us.
Jamie is a contributor to the textbooks Integrative Medicine and Health of People, Health of Planet and Our Responsibility. With training in the Art of Hosting, and practice with the Work, he brings an understanding and experience in both inner and group development work. Jamie participated in a year-long on-line Work That Reconnects Facilitator Development Program.  As an improv coach, actor and community ceramic muralist he is skilled at engaging the imagination and creative self of others to engage their whole person. Jamie is driven by a passion to help us fall in love with our shared humanity and a reconnection and realignment with earth wisdom.  In his free time he can be found hiking or skiing through the woods.
He lives in Duluth with his wife Nancy and dog Lucy! His grown children Nat and Emma continue to visit!
Please fill out the form to join the webinar. Once you fill out this form a confirmation email will be sent to you by Zoom with the information to join the meeting. If you already have a PRATI account, please use the same email to sign up here.
In our aim to engage the community and grow our relationships with one another, this meeting may include opportunities to interact with fellow attendees in breakout rooms on camera / audio. Participation on camera and with a microphone is not required, but encouraged.