Rossana Rivellini, Licensed Marriage and Family Therapist
Rossana Rivellini, LMFT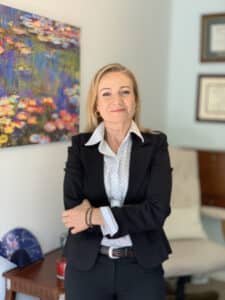 Type of Provider
Licensed Therapist
I tailor each session to my clients' individual needs. My approach is client centered, somatic, psychodynamic, & mindfulness based. I am PRATI Trained and received my Psychedelic Therapies Certification form Naropa University in December 2022. I offer Ketamine-Assisted Psychotherapy (KAP) for treatment resistant depression, anxiety, PTSD, and for spiritual & personal growth. I approach my clients with respect and celebration of each individual's gender identity, sexuality, religion, race, culture, and age. I became certified by the American Association of Marriage and Family Therapists as an LGBT-Affirmative Psychotherapy provider so that I can work in support of this community in a more specialized and professional capacity.
I support PRATI's vision of a planet in which people flourish and thrive in right relationship with the natural world.
Yes
Briefly describe how your clinical work or business practice (e.g., policies, practices, or educational offerings) aligns with PRATI's Purpose statement: "Reconnecting to the Sacred: Self, Community, Nature, and Spirit".
As a psychotherapist, I strive to incorporate principles of reconnecting to the sacred by helping individuals explore and strengthen their connection to themselves, their communities, nature, and spirit. This may involve incorporating mindfulness and meditation practices to facilitate self-awareness and connection to one's inner self. Additionally, I may encourage clients to develop supportive relationships within their communities and cultivate a sense of stewardship towards nature. Spirituality and belief systems may also be explored and integrated into therapy as a way to connect to a higher power or greater sense of purpose. By addressing these interconnected aspects of the human experience, I strive to use my psychotherapy practice and session with clients to promote a holistic and transformative approach to healing and personal growth.