PRATI Reconnections Webinar Series: Psychedelics and Climate Change in the Great Turning with Jamie Harvie
Psychedelics and Climate Change in the Great Turning: Sacred Lessons From Plant Teachers and Our Planet Teacher
Join us for this one-hour interactive webinar in which we will explore the intersectionality of plant medicine wisdom and core ecological principles. This conversation, led by PRATI Executive Director Jamie Harvie, will offer tools and approaches as foundation support for climate mitigation, inner healing, and transformation, and provide important insight into the holistic interrelationship between our inner and outer worlds.
The phrase "the great turning" comes from the work of environmental activist and Buddhist scholar Joanna Macy and is a name for the shift from the destructive industrial growth society to a life-sustaining community. In this conversation, we will explore the role that psychedelics play in this ecological shift and how we can work together to meet our needs while living in harmony with the world.
Jamie Harvie serves as the PRATI Executive Director and is an innovative systems thinker working at the leading edge of institutional and organizational change, policy, and advocacy.
Jamie led the successful coordination and passage of mercury product legislation and the phase-out of healthcare mercury nationally. His work is recognized as helping support the passage of the United Nations Minimata Treaty, the global commitment to phase out mercury.
He founded and directed the Healthy Food in Health Care campaign and is credited with raising the alarm and initiating the transformation of healthcare food policy and practice nationally. At the local level, Jamie coordinated the successful, "For the Love of Place Campaign," which has helped Duluth, MN shift towards a culture of reuse through a fee on single-use carry-out bags.
In 2009, Jamie was awarded the NRDC National Thought Leader award for his work on sustainable food systems and health care. In 2013, along with Michelle Obama, he was included as one of "Top 20 Most Influential" food system leaders by Food Service Director Magazine. In 2015, he received the Paul and Sheila Wellstone Achievement Award from the Minnesota Public Health Association for his contributions to public health in Minnesota.
In 2018 Jamie was selected as a BALLE Local Living Economy Fellow — visionaries and strategic connectors from across North America at the forefront of building healthy, equitable local economies, underpinned by the regenerative capacity of the natural world around us.
He is a contributor to the textbook Integrative Medicine and the textbook on climate change Health of People, Health of Planet and Our Responsibility. His work has been published widely including in Stanford Social Innovation Review, The Democracy Collaborative Next System Project, and Not for Profit Quarterly Magazine.
Watch the Playback of the Webinar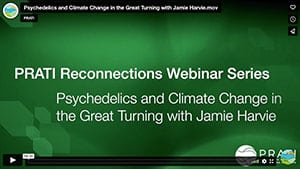 Psychedelics and Climate Change in the Great Turning with Jamie Harvie
After you watch the webinar, please share your feedback about it in this short survey.