PRATI Reconnections Webinar Series: Psychedelics, Community Mental Health and Transformation with Yarelix Estrada, MSPH
We continue our webinar series with a presentation and conversation with Yarelix Estrada. Psychedelic medicines offer the potential to address intractable mental health conditions and are now poised to enter the US healthcare sector. In the context of our mental health crisis, the medicalization of psychedelics is creating an economic gold rush while raising important questions about community needs and benefits. Join us for this webinar conversation with Yaerlix Estrada, MSPH, harm reduction researcher and psychedelic community organizer. We will learn about and discuss our mental health crisis, harm reduction, community-focused use of psychedelic medicine, and evolving strategies to preserve healing in the commons and how we might nurture a new approach to mental health.
Yarelix is a first-generation Central American, drug policy and harm reduction researcher, community outreach worker for overdose prevention and psychedelic community organizer. She currently works as a City Research Scientist with the New York City Department of Health and Mental Hygiene conducting community-based substance use harm reduction outreach and research. She is also the director of the New York City Psychedelic Society, which works to help build a connection of psychedelic New Yorkers that is grounded in creating safe spaces.
Yarelix's work, both inside and outside of her formal profession, have been focused on elevating the needs and centering the voices of communities that have been most marginalized and impacted by colonization in this country: people who use drugs, unhoused folks, low income communities, BIPOC communities, and immigrant communities, with an emphasis for folks with many intersecting identities. She organizes psychedelic integration circles that are BIPOC only with the intention of offering a free space for community members to share their experiences that intersect with mental health issues in lieu of not having their own community and/or adequate institutional mental health support.
She is on the Board of Directors for the Tennessee Recovery Alliance, on the Advisory Board of the media group Psymposia and is a member of the Urban Survivors Union. She received her Master of Science in Public Health in Health Policy at the Johns Hopkins Bloomberg School of Public Health.
Watch the Playback of the Webinar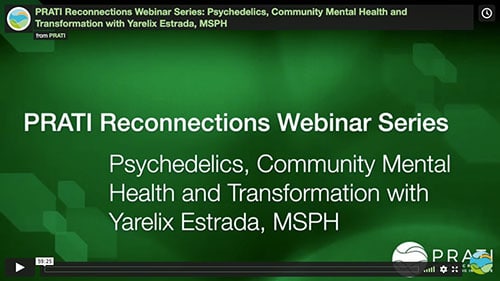 Psychedelics, Community Mental Health and Transformation
After you watch the webinar, please share your feedback about it in this short survey.