Dear Community, 
As you may know, a group of like-minded friends and colleagues in Colorado started PRATI in 2019 to help bring about personal, professional, and planetary transformation. As we close 2021, I'm thrilled by what our young non-profit organization, together with your support, has accomplished. Moreover, in an increasingly transactional economic ecosystem amidst widespread ecological grief, I'm especially encouraged and energized by how PRATI's vision and purpose seems to resonate with so many of you!
From individual conversations we've had and our growing list of email subscribers, it is clear that beyond reshaping clinical care, there is a shared and pressing desire to realign and transform human-made systems so that they foster connection, diversity, equity and dignity, and are reflective of our common humanity—in essence, to restore balance so that our outer world may become a reflection of a healed inner world. 
This is the work PRATI has been committed to since our inception, and we've made some great strides towards our goals in 2021. Take a glance at what we've accomplished and where we're headed. 
Here are some of the highlights:    
Business of Psychedelic Medicine Training

– In March, with the support of the Psychedelic Sciences Funders Collaborative (thank you!), PRATI completed its second two-day Business of Psychedelic Medicine training aimed at supporting the rise of independent, sustainable psychedelic clinics. We are excited to share that 14% of our attendees provide services to underserved groups and/or represent BIPOC communities, and PRATI was able to provide a 70% discount scholarship to these individuals! 

PRATI – One Sacred Earth Invocation

– In April, PRATI partnered with the One Sacred Earth Project to co-create an

Earth invocation

. This exploratory gratitude practice is used to discuss, honor, share, and elevate the gifts of nature while helping one another learn more about themselves as individuals and collectives within the community of life. Stay tuned in 2022 for more nature-related programming! 

KAP Training Program

– In 2021 we held four KAP Training events, training nearly 100 new alumni. We also proudly launched a KAP Training Scholarship program for trainees in financial need or who hold BIPOC or marginalized identities. Scholarships supported roughly 20% of our alumni this year!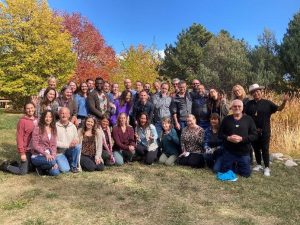 Our plan for 2022 is to continue our work to restore connection to the Sacred (self, community, nature, and spirit) and to grow PRATI's impact by seeding, nurturing, and connecting radicles—the embryonic seed roots of human potential intrinsic within each of us. 
While we will continue to grow and build our KAP training program we are excited to announce the launch of Reconnections, our new webinar series. Each month we will bring in guests to explore the Sacred. On January 23rd at 9:30 AM MST, we kick off our webinar series with a presentation and conversation with researcher and ecologist Dr. Sam Gandy on Nature Relatedness and Psychedelics. 
In addition, we our growing website collection of short essays.  This month we feature an article Melodies of the Great Mystery: Exploring the Role of Music In Psychedelic Therapy by our PRATI KAP Course Director Stephen Thomas, MSW.
Our mission is to nurture a new approach to mental health and illuminate a pathway for individual and planetary healing.  
We believe that together we can advance this work and create a planet where people flourish and thrive in right relationship with the natural world.  
With inspiration and gratitude,   
Jamie Harvie
PRATI Executive Director