Musings on Music: Sublingual Sessions 2
Hosted by Stephen Thomas and Jason Sienknecht
PRATI KAP Training music faculty Stephen Thomas and Jason Sienknecht host an interactive exploration of our Spotify playlist, Sublingual Sessions 2. Curated by the Colorado-based DJ and producer J.Vetrano, this latest installment in the Sublingual Sessions series is a bespoke collection of ambient, electronica, and minimal tracks recommended for psychospiritual exploration and deep introspection. We will speak with the artist about his inspiration and vision while listening live to select tracks from the playlist. Bring your burning questions, put on your headphones, and journey with us into unique and mysterious realms of sound!
About J.Vetrano
While it's generally been for an audience of one, J.Vetrano has been curating electronic music for nearly 30 years. In the right place at the right time, living in Detroit just as its second wave of techno was taking off, he found himself immersed in a soundscape and a landscape both alien and beautiful. This experience has led to a lifelong fascination with the synthesis of sound and place. Drawing on these influences, the collection of sounds in Sublingual Sessions 2 is designed for exploring internal spaces that can sometimes be difficult to reach.
Watch the Playback of the Webinar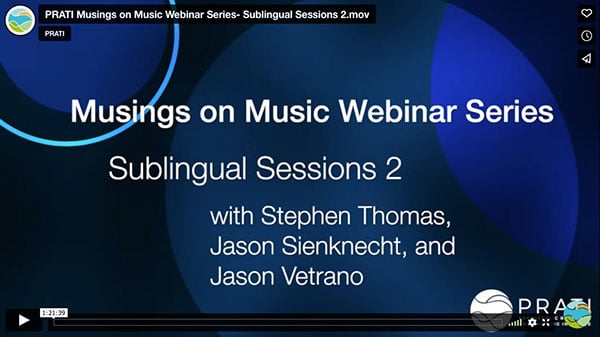 After you watch the webinar, please share your feedback about it in this short survey.